Description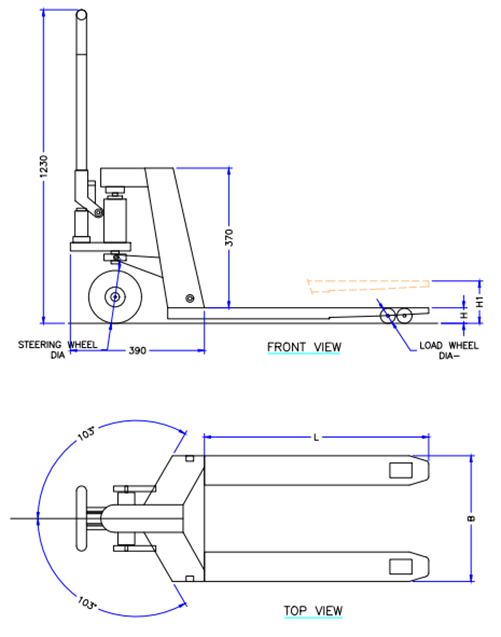 | Model No. | | ND-SUPER LOW-1000-1150-540-35X | ND-SUPER LOW-1000-1220-685-35X |
| --- | --- | --- | --- |
| Capacity Q | kg | 1000 | 1000 |
| Min. Fork Height h | mm | 35 | 35 |
| Max. Fork Height h1 | mm | 90 | 90 |
| Lifting Height | mm | 55 | 55 |
| Fork Length L | mm | 1150 | 1220 |
| Single fork width e | Mm | 160x30 | 160x30 |
| Width overall Forks B | mm | 530 | 530 |
| Fork wheel -Tandem | mm | 34 x58 | 34 x58 |
| Steering Wheel A | mm | 160 x 50 | 160 x 50 |
Nido Super Low Profile Pallet Truck with 1000 Kgs capacity, offers users with simple, economic and reliable handling equipment.
Top class range of pallet trucks with excellent designs.
Professional and ideal storage aid for all variety of manual transport tasks over short distances in stores and warehouse as well as factory plants.
Reliable,  sturdy,  torsion-resistant due to its extremely strong high-quality steel profile.
All  pivots  points  are  greased  ensures  excellent  maneuverability  with  effortless  steering  The chromed bearing bushes and joint ensure quiet running properties and particularly long service.