Description
NIDO ride on sweeper is suitable for cleaning large warehouses, parking lots etc. When conducting cleaning and sweeping, it can automatically adjust the lifting of brush handle. Two side brushes can collect the waste to the middle position and main brush will collect it to the waste hopper. The brushes can be controlled up and down manually as well. Enlarged filter that can clean up dust perfectly.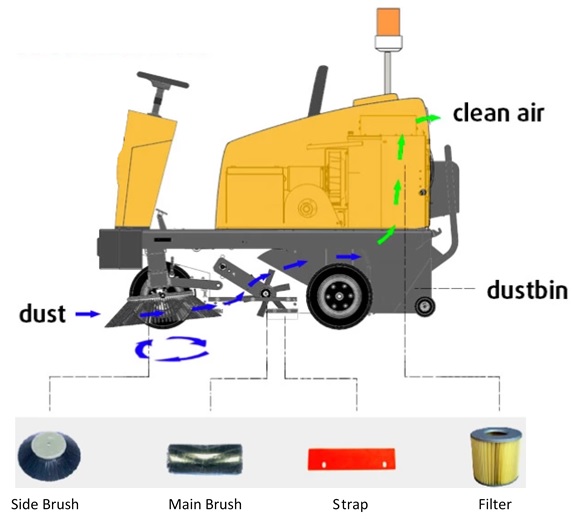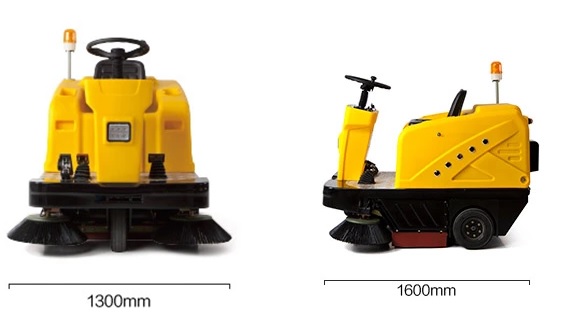 Item Name
Unit
ND-ICE-SR-C200
ND-ICE-SR-E800W
ND-ICE-SR-E800FB
Sweeping path
mm
> 1300
1900
1900
Cleaning efficiency (approx)
m²/h
6700-7000
11000 - 12000
12000 - 13000
Max climbing capacity
%
20
25
25
Main brush length
mm
700
800
800
Side Brush Diameter
mm
500
500
500
Power supply
V
48
48
48
Battery
V/Ah
48V(12V*4pieces*100AH)
48V(8V*6pieces*150Ah)
48V(8V*6pieces*200Ah)
Charging time
(Single Phase 230V/16Amp
MCB)
7-8hrs
7-9hrs
7-9
Battery backup
hrs
4-5
6-7
7-8
Power Consuption
V/Ah
48V*100Ah
48V*150Ah
48V*200Ah
Waste hopper capacity
L
130
180
180
Water Tank (PVC Body)
ltr
30
100
Driving power
W
1200
3000
3000
Working Power
Main Brush + Fan + Side Brush + Dust
Vibration
W
600+400+80*2+50
800+400+80*2+50
800+400+80*2+50
Working speed
Km/h
6
7
5 - 7
Driving speed
Km/h
8
9.8
9.8
Filter area
m2
5
5
8
Turning radius
mm
1000(spot turn)
1200 (Spot Turn)
1200 (Spot Turn)
Dimension (L/W/H)
m
1.6*1.3*1.4
2150*1900*2040
2150*1900*2040
Net weight
Kg
460
800
900
Chassis
One Press Forming
One Press Forming
One Press Forming
Cleaning efficiency factors: Floor type and ground flatness, dust type, operator training and proficiency of operator, machine maintenance, brush touch ground adjustment, dust vibration cleaning, brush cleaning, filter cleaning always help to get more output.
Optional Water Tank Capacity
ltr
20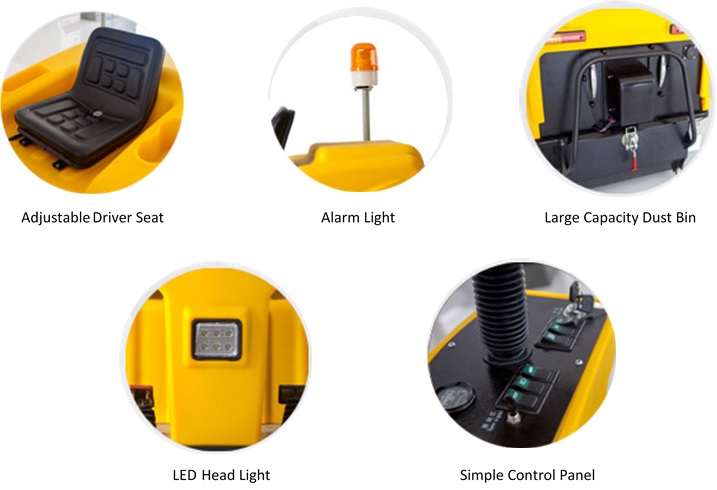 ND – ICE – SR – C200
Suitable for mining areas, enterprises, large warehouses, squares and other smooth ground. The brushes can be controlled up and down manually, more durable for operating. LED headlight is designed for working at night. Enlarged filter that can clean up the dust perfectly and also the filter can be cleaned by electric vibrator automatically.
CE certified, battery operated ride on sweeper
Double brush with sweeping width of 1250 mm
High capacity and maintenance free batteries, no leakage, no harmful gases
Convenient hopper system for manual emptying
LED headlights, warning lights, Large dust filter screen
Filter vibration system to maintain cleanliness of filters
Low failure rate for best import quality and reliability and economic operation
Easy access for maintenance and adjustment work
Steel chassis offers strong bearing capacity
Durable tyres equipped with brake apparatus
Easy to disassemble mechanical parts, easy to replace main, side brushes and filters
ND – ICE – SR – E 800 W
It has the multi-functions of vacuum, sweep and water spray. High power, strong climbing capacity and the anti-slip function make it one of the unique sweeping beasts. Suitable for outdoor usages like parks, sanitation, cleaning companies, property managements, squares and so on.
– Increase the chassis design, flat filter, built-in powerful dust control systems, more powerful vacuum cleaner, sweeping width of up to 1850mm.
– The use of advanced high-performance maintenance-free batteries, no leaking, can't produce harmful gases.
– As the international advanced technology of thrown & clean, the dust box can achieve to 100% utilization.
– Reliable high-quality components reduce maintenance and repair costs.
– Solid tire, airport-specific, and durable.
– High-quality electronic control system, over current, under voltage protection, more secure.
ND – ICE – SR – E800FB
NIDO ride on sweeper has the multi-functions of vacuum, sweep and water spray. High power, strong climbing capacity and anti-slip function. It is suitable for outdoor usage as parks, sanitation areas, property management, roads and so on. Adopts comfortable enclosed cabin, suitable for cold and harsh environment
CE certified, battery operated sweeper
Removable double door
Three levels of filtering system
Advanced extra-large filtration system offers large filtration area, and stronger vacuuming
ability
100 ltr water tank capacity, largest of its kind
Enclosed cabin provides safety from any external interference
Safe and comfortable operating for operator
Features 48V, maintenance free battery, longer continuous use
Environmentally friendly
Reliable power supply as key connectors are retardant and waterproof
Main brush motor features rare earth motor with long life, stable performance
High speed adjustment precision, smooth running
Highly manoeuvrable, shot wheelbase chassis and compact design
Optional PFC charger
NIDO Ride on Sweeper at Client Site