Description
NIDO S2000 MK ride on sweeper is built with special chassis overall structure of the combined mode of sweeping, vacuuming, spraying. Ergonomic design and perfect cleaning performance meet all cleaning needs. Ideal and widely used in municipal corporations, roads, parks, residential areas and other public places.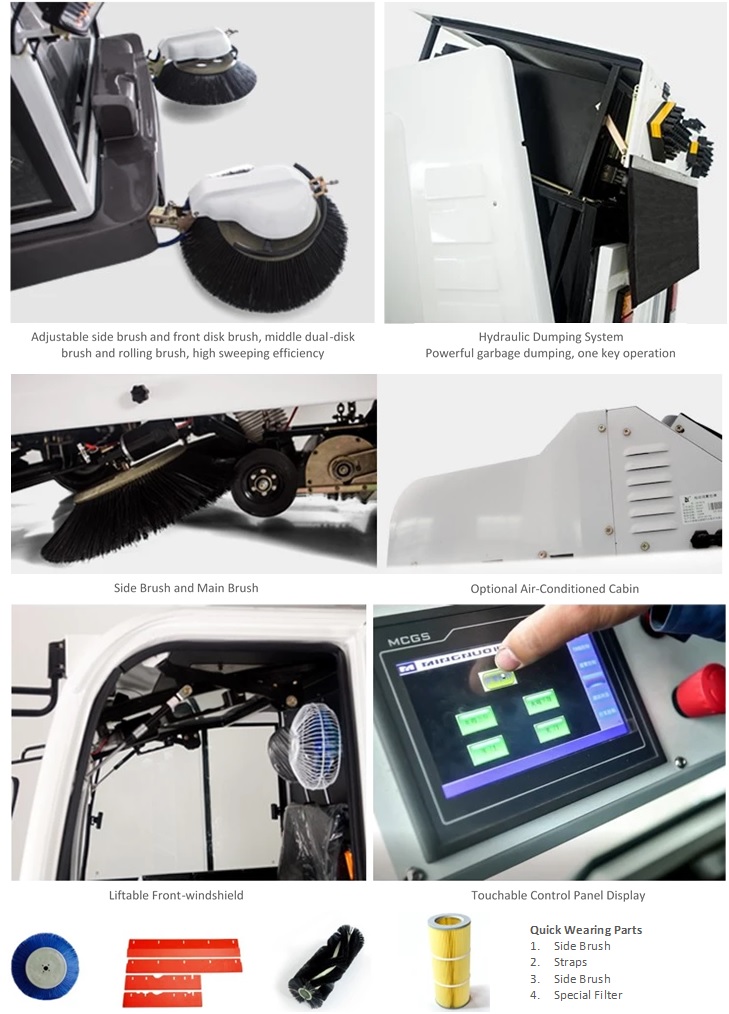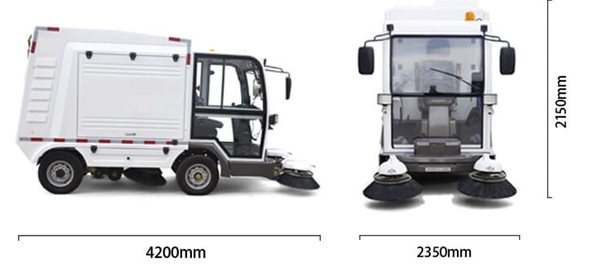 ND-ICE-RS-S2000 MK
Unit
Specification
Sweeping width
mm
2000~2350
Cleaning efficiency
m²/h
>20000
Max gradeability
%
25
Main brush's Diameter
mm
500
Side brush's diameter
mm
700
Power supply
v
48
Battery
V/Ah
48V(8V*6pieces*400Ah)
Charging Time (Single Phase 230V/16Amp MCB)
hrs
6-7
Battery backup
hrs
7-9
Power Consumption
V/Ah
48V*400Ah
Waste Hopper Capacity
Ltr
1000
Water tank capacity
Ltr
300/150
Driving power
w
5500
Vacuum power
w
5500
Blower Rating
m3/h
Fan motor power is 5.5kw, The fan motor pressure is 4000Pa , and blast capacity is 3600m3/h
Suction Hose Size (Dia * Length)
mm
155 * 5000
Working Power (Main Brush + Fan + Side Brush + Dust Vibration + Oil Pump + Water Pump)
w
700+5500+150*4+100*2+2200+1500
Working speed
km/h
7-10
Driving speed
km/h
>25
Filtering area
m²
24
Turning radius
mm
4500
Dimension(L/W/H)
mm
4300*2350*2460
Wheelbase
m
1900
Tread
mm
1400
Net weight
kg
2030/2230
Chassis
One Press Forming
Optional Air Condition
v
48
Cleaning efficiency factors: Floor type and ground flatness, dust type, operator training and proficiency of operator, machine maintenance, brush touch ground adjustment, dust vibration cleaning, brush cleaning, filter cleaning always help to get more output.
| Model | ND-ICE-RS-YHD21 |
| --- | --- |
| Engine model | Kubota D1105 disesle engine |
| Rated engine power | 18.1kw/2800rpm |
| Wheelbase | 1200mm |
| Kerb mass | 1400kg |
| Max total mass | 1800kg |
| Garbage bin volume | 240L |
| Water tank volume | 150L |
| Sweeping speed | 1-10km/h |
| Suction capacity | Granularity 45mm@density2.7g/cm3 |
| Max sweeping width | 1.8m |
| Max speed | 16km/h |
| Minimum turning radius | 2200mm |
| Dimension | 3250*1130*2130mm |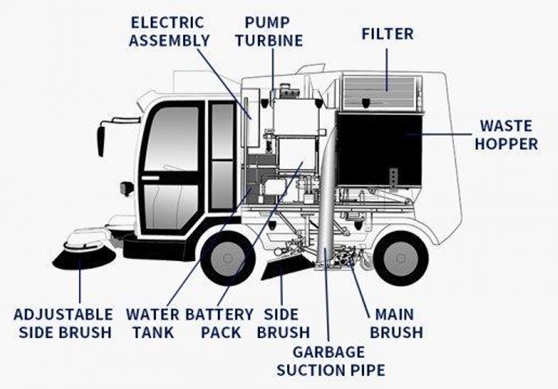 Nido Ride On Battery City Sweeper – ND-ICE-RS-S2000 MK
PERFORMANCE COMPARISON
Electric/Battery vacuum sweeper:
Zero emission, environmental protection
Low noise, do not disturb the surrounding environment
Low cost and economical
Easy to drive & low labor cost
Diesel vacuum sweeper:
There are exhaust emissions, pollution of the environment
Noise, interference with the surrounding environment
High fuel cost
Difficult to driving, higher labor cost
Nido Ride On City Sweeper – Battery ND-ICE-RS-S2000 MK is an electric road sweeper with the special chassis overall structure of the combined mode of sweeping and vacuuming.The sweeper is superior to the similar domestic products, which is featured by the stylish appearance and flexible operation. Hence,it is the ideal sweeper model for the occasions such as street, community, school, etc. requiring the sweeping and cleaning of large areas.
ADVANCE FEATURES
All-in-one vacuuming & sweeping machine, it's adopting to the special chassis overall structure of the combined mode of sweeping and vacuuming, which is suitable for runway sweeping, flour & soybean factory floor, wood chip vacuum , cement, sands & dust tiny sweeping, alley-street sweeping, community road sweeping etc cleaning and sweeping
Two layer filter system design—one layer steel filter system design that is aiming at plastic bottle, leaves,tissue paper, plastic bag, canister,pebble etc vacuuming and filtering, steel filter system is able to stock this garbage at inclosed waste hopper.
The second filter system is able to vacuum and filter effectively tiny dust such as flour,soybean,sand etc.
High efficiency fan motor system
The fan motor pressure is 4000 Pa , and blast capacity is 3600 m3/h.
Hydraulic auto dumping system, the waste bin dumping height has 800-850mm
Double operation model system–Manual operation and LED touch screen operation
Auto lifting adjustment with suction mouth to provide good trafficability.
NIDO RIDE ON CITY SWEEPER – DIESEL | ND-ICE-RS-YHD21
Nido Ride On City Sweeper ND-ICE-RS-YHD21 is one compact integral structure road sweeper with special chassis. The road sweeper 's technology is leading in same products and with nice appearance & flexible operation. The total operation power is output by one KUBOTA diesel engine, moreover, the whole operations are controlled by hydraulic transmission. The two sweeping brushes are fitted at the both front sides of cab and the suction mouth is fitted at the middle of the bottom of cab. The suction system adopts air circulation and reverse blow structure. Some airflow is filter out through the bag filter, so it won't rise the secondary dust pollution, improving the efficiency of suction. Meantime the filter system can make the road sweeper adopt water less dry-type cleaning way.
MAIN FEATURES
240L standard garbage bin can stock garbage, and unique roll-on/roll-off disposal concept, unbeaten flexibility of adaptation to customer's logistic requirements.
Hydraulic wheelie bin lifting mechanism allowing operators to switch between wheelie bins, which can then be collected by a refuse vehicle.
Hinge turning structure can make the turning radius much smaller and sweep the twisty and narrow place.
Suction system structure adopts circulation blow back combine with filter. High dust filtration rate of 98% makes it suitable for use in public areas. it can sweep with or without water.
The drive mode adopts hydrostatic infinitely variable speed transmission system, turning operation adopts complete hydraulic redirector, the operation of sweep is easy and flexible.
The sweeper is equipped with air condition and heating machine, the operator can enjoy the comfortable work environment in summer and winter.
There are panoramic glasses in cab, the field of vision is very open. The sweeper also equipped with color LED monitor which is convenient to check the status when sweep and reverse.
The sweeper is equipped with 150 L plastic water tank and mini size electric water pump which can spray and dedust.