Capella – Static Dimension Weighing System
"NIDO SDWS is named CAPELLA not only after one of the brightest stars in universe, but also because it is a complete system, capable of functioning as an addition to an existing system or as a standalone!"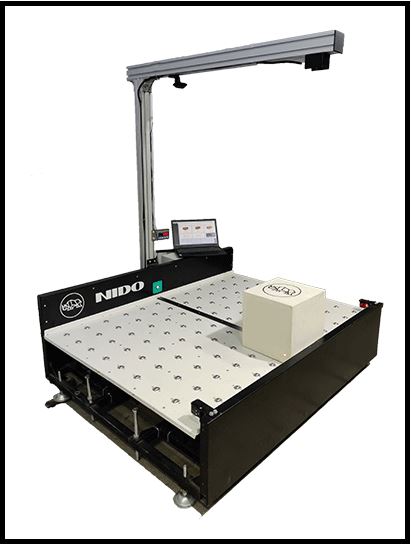 NIDO Static DWS system is engineered to absolutely minimize the time spent on measuring the dimensions and weight of a body while maintaining clinical-like accuracy, all done by simply scanning the barcode on the SKU. It can calculate the volume and dimensional weight, irrespective of the item being cuboidal or non-cuboidal.
Capella is a series of strong and sturdy equipment that is engineered to efficiently handle and track large and heavy parcels entering or leaving warehouse
The device incorporates a barcode scanner for barcode capture and linking the data obtained to that SKU and a display to present the values. Its modularity enables to add multiple optional peripherals, like 2D wireless barcode scanner, printer, interface with PC, integration with WMS, ERP, SAP or simply with present the data on a huge display.
Static DWS finds its true potential in freight handling, warehouse management and material handling situations where the data must be obtained fast and easily transmitted to the server for computing shipping charges, logistics planning, storage space planning, carton selection, material sorting or to maintain a transparent system
This product comes with a NIDO's proprietary software NIDOWorkz that is presents the desired data on the display, while on the back end, it can transfer the data to the client-side WMS/ERP/SAP via TCP/IP protocol. A direct link can be established to the database, thereby eliminating the dependency on any third-party software. The image captured has all the critical information embedded in the corner. This proves useful for documentation purposes as well as for logistics purposes.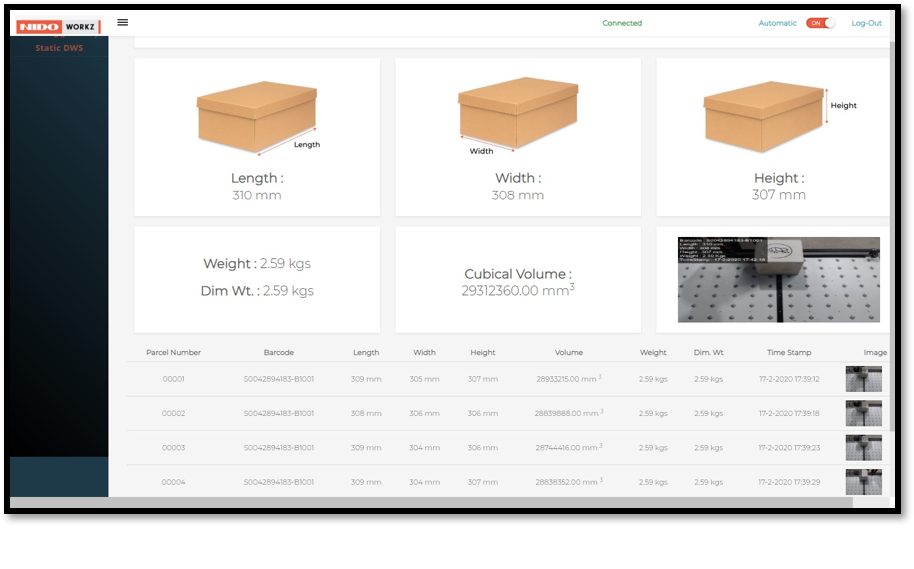 Features of CAPELLA series
Accurate Ultrasonic, Laser and Load Cell measurement technique
High Accuracy and Precision
Easy to set up and maintain
Ball transfer units for smooth and ergonomic manoeuvring of heavy or large objects over the platform, not only enabling it to perform as a standalone device, or as a supplement to the existing conveyor system* but also ensures minimum handling damage on SKU as well as reducing maintenance cost to the equipment
Integrated flaps to easily capture dimensions of non-cuboidal objects
Customizable specifications to ensure it fits perfectly in all application
Productivity of the material handling process can be boosted exponentially by linking the system with NIDO – Antares and NIDO – Deneb
Deployed along with NIDO's proprietary software: NIDOWorkz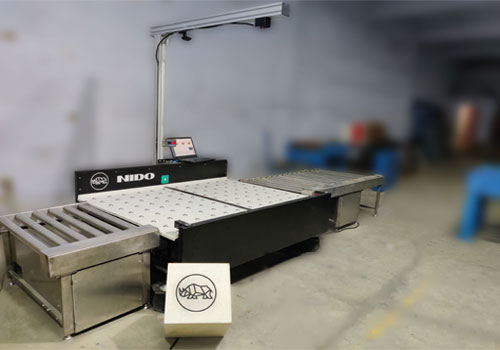 Capella – in a conveyor system

Ball Transfer Unit Floor : To minimize point of contacts between the parcel and platform to only rotating stainless steel balls
Features of NIDOWorkz
Obtain Volume and Dimensional Weight instantly
Direct communication with ERP/SAP/WMS for further action / adding USP to customers in logistics purpose
Eliminates manual data entry
Archived images with all information in a corner to ensure a well-documented and a transparent process for optimization
Data remains accurate and intact through out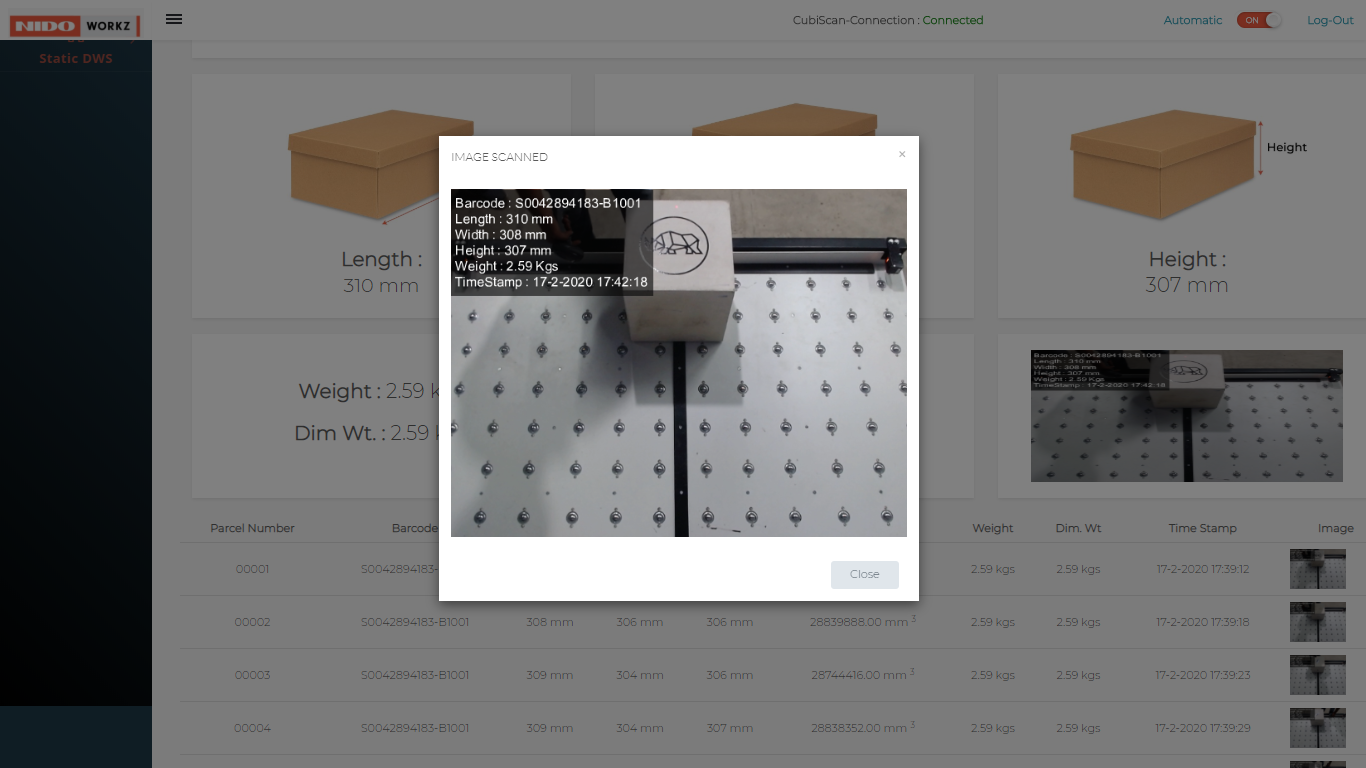 Model No.

Capella 80S

Capella 120S

Capella 150S

Length (Minimum :: Maximum)
mm
50 :: 1200
50 :: 1400
50 :: 1400
Width (Minimum :: Maximum)
mm
50 :: 900
50 :: 1200
50 :: 1200
Height (Minimum :: Maximum)
mm
50 :: 1000
50 :: 1200
50 :: 1200
Weight (Minimum :: Maximum)
kg
0.100 :: 80
0.100 :: 120
0.100 :: 150
Dimensional Resolution
mm
±1
±1
±1
Dimensional Accuracy
mm
±5
±5
±5
Weight Resolution
gm
±10
±20
±20
Weight Accuracy
gm
+/-100
+/-100
+/-100
Operating Temperature
°C
10-55
10-55
10-55
Barcode Types
1D
UPC/EAN/JAN,UPC-A & UPC-E, EAN-8 & EAN-13, ISBN/ISSN, Code 39 (with full ASCII), Codabar (NW7), Code 128 & EAN 128, Code 93 and more
2D
QR Code, Data Matrix, PDF417
Miscellaneous
Data Output: USB/Ethernet/Wireless
Measurement Sensor: Ultrasonic and Laser
Weight Sensor: Load Cell
Power Requirements: 100-240 VAC
Standard Peripherals
NIDOWorkz Software
1D/2D Wired Barcode Scanner
Calibration unit
High Resolution Camera
Processing System
Wireless keyboard-mouse
Optional Peripherals
1D Wired Barcode Scanner
1D Wireless Barcode Scanner
1D/2D Wireless Barcode Scanner
Ultra-High Resolution Camera
Thermal Printer
Calibration Weights
Industries
Airport Luggage Handling
E Commerce
Logistics / 3PL
Courier Express Parcel
Warehousing
Automotive Spares
Furniture