The Deneb series is a supplement to the Capella Series. It is a game changing approach to the way a parcel is segregated based on a criteria determined by operation. With so much critical information obtained from the Capella series, it is highly fruitful if effective use of data is done. Like its sister Capella-D series, Deneb is meant to perform dynamically. It is specifically designed to execute proper parcel management during rush hours.

With the rapid growing of ecommerce and CEP industry, it has been a challenge for the fulfillment centers and the courier delivery services to handle the rising volumes of packages and delivering them to the right location within it's specified time duration. In order to ensure that the parcels reach the destination faster with reliability, it's important that the sorting stations are equipped with the right sortation system which can efficiently handle and sort the large volume of packages.
Nido Sortation solutions automate the processing and sorting system in your distribution center starting from the receipt of good till sorting and dispatching, preventing wastage of time, materials and your valuable resources. Our one stop sorting solution are designed to turbo charge your sorting process from start to finish with great accuracy and throughput.
SALIENT FEATURES
Minimized dependency on manual operators.

Chances of critical errors happening is absolutely minimized.

Manual error could cause hours if not days of backlash if a parcel were to be sorted at a wrong location. The extensive training of the operator is not needed in this solution.

Safe Handling – Parcels are sorted with utmost care. Scope of damage occurring while being sorted becomes drastically low .

Efficiency of Operations shoots up based on the type of sorters.

Constant communication with the WMS, ERP and SAP and enabling real time updates.

Paperless Sortation made possible and feasible.

Single point entry with an expandable number of sortation stations.
Steerable Wheel Sorter s
DENEB-STW Series
---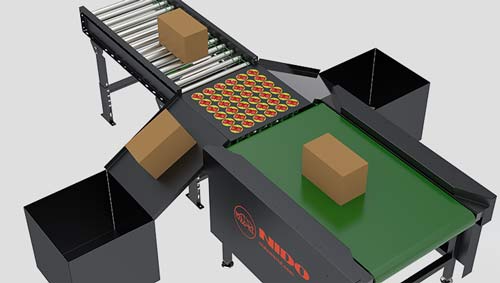 Our STW solution makes diverting parcels easier than ever. Our unique design makes parcel segregation anywhere between 0 to 90° effortless. It offers throughput upto 8000 PPH.
Pneumatic Pusher Sorters
DENEB-PP Series
---

Our pneumatic based solution was engineered to be a part of high speed operation where parcels are required to be pushed on to the sortation chutes. It is a reliable option for smooth handling of small to medium sized parcels without interrupting the flow of operation 
Pop Up Sorters
DENEB-PP Series
---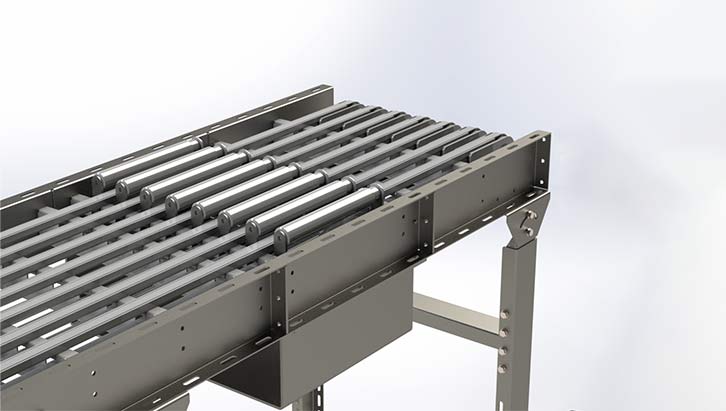 A segment of narrow belt rises from between the rollers to sort the parcel 90°. Offers throughput upto 2700 PPH. Our mechanism also proves to be the recommended solution for transfer of goods on 90° conveyor turn without damaging them. 
Narrow Belt Sorters
DENEB-NB Series
---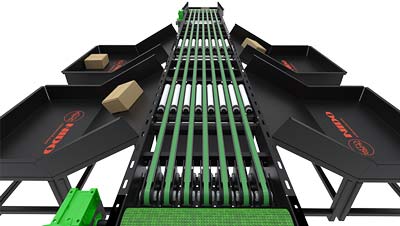 Our Narrow Belt Sorter was designed for smooth 90° transfer of small sized materials. A series of long narrow belt are used to transfer material while the roller system delivers the required shipments to the allocated stations.
Swing Arm Sorters
DENEB-SA Series
---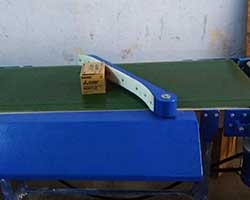 Most simplistic solution for simple operations. A mechanical arm to ergonomically and safely transfer the shipments off the conveyor line.
Single Unit / Liner Cross / Loop Cross Belt Sorters
DENEB-CB-SA Series, DENEB-CB-LI Series, DENEB-CB-CL Series
---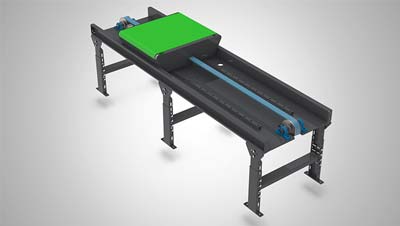 Our CBS solutions enable in line processes with sorting stations arranged in the shortest linear path . 
​The induction sorting and picking stations can therefore be optimally configured . High speed sortation system designed for small size to medium sized objects 
One of the only systems that enables having the sorting stations in a single line across the warehouse or in a loop, whatever the process demands. An ecosystem of uniquely designed belt conveyor units take the sortation process to the next level
HELP US FIND THE BEST SORTER FOR YOU