NidoWorkz, our proprietary software, collects the data allowing you to format, store, validate, utilize and transfer data as needed.

Asset Management:
For any asset rich company, implementing an asset management software is very essential. NIDO's asset management software would be the one-stop-solution to manage and maintain tangible assets of your company. This software is designed to provide the real-time asset information, increase asset availability, reduce asset down-time, improve asset performance and effectively channelize the maintenance for maximum throughput in the operations. The results are improved return on asset and increased profitability.

Predictive Maintenance :
Are you doing the maintenance if and only if the machine breaks down (reactive maintenance)? This will be have a bad impact on the operations efficiency. Are you investing so much for regular or periodic maintenance tasks (preventive maintenance)? This takes up a significant amount of operational expense. Predictive Maintenance is crucial for any company undergoing industrial 4.0 transformation.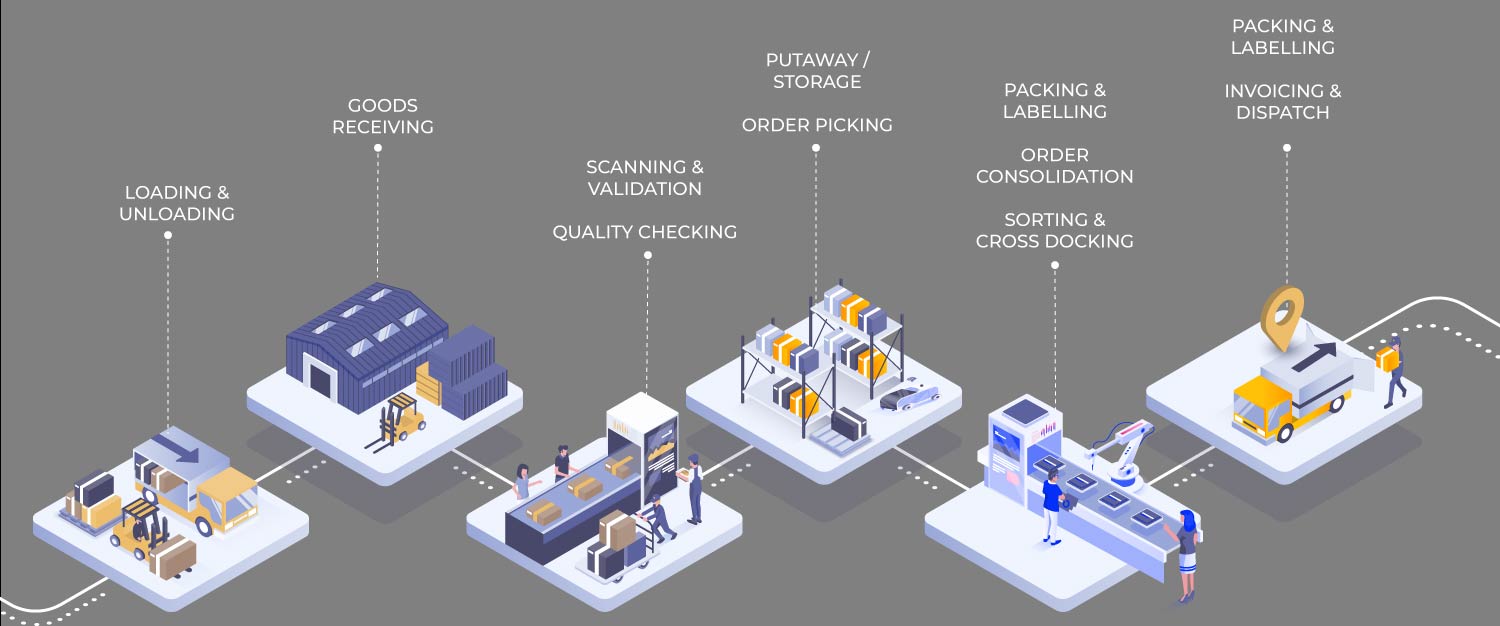 Warehouse Management System:
Warehouse Management System (WMS) is a specialized software that allows to control and manage the warehouse operations from the shipment entering the warehouse until they ship, which provides accurate tracking and visibility. Designed to control all of your warehouse activities, WMS controls the flow of inventory into, within and out of the company's distribution center or multiple DCs. WMS allows to track every unit, down to the lowest level of detail and enhances the inventory management for improved order fulfillment, inventory accuracy and reduced order cycle time.

Warehouse Control System:
A warehouse control system (WCS) is a real-time integrated control solution that is primarily used to manage various types of automated equipment like conveyors, sorters, put/pick to light systems, print and apply, automated storage and retrieval system and others. WCS does not execute highly intelligent algorithms, rather its an essential building block while implementing any sizable automation solution and its primary responsibility is to act as a bridge between the WMS and the automation equipment for accurate order fulfillment. WCS is able to communicate and control these equipment by exchanging command processing, real-time communications using machine language and discrete equipment signals with high speed of execution. 
Warehouse Execution System:
As the distinction between various systems becomes less apparent with lot of development in recent times, a new breed of systems called warehouse execution systems (WES), is the best known hybrid solution that has become the center of attention. They cater towards a new motive by offering the capabilities of both a WCS and WMS, as well as a means of enabling the continued growth for supply chains.
With increasing number of omni channel and e-commerce warehouses, the traditional system in use lacks the wide functionalities required for the modern warehouse operation and efficiency. WES evolved to offer a blending between the WMS and WCS functionalities.

Fleet Management:
Automated guided vehicles are equipped with advanced fleet management software which acts as a key to ensure maximum operational efficiency, reduced operational cost and guaranteed workforce safety.
NIDO Fleet Management software will be integrated in each vehicle and allows for navigation and control of those vehicles. This intelligent software manages the real time fleet of AGVs' by regulating the traffic and assigning transport orders to them. This software is also capable of finding the availability of AGV, their proximity, the most economical route to choose and to prioritize the tasks based on the mission.