EXPANDABLE FLEXIBLE CONVEYOR
| Expandable Flexible Roller Conveyor | CANOPUS FRC / FMRC Series |
| --- | --- |
| Roller material | MS/SS/PU/PP |
| Compacted expanded length | 3890 mm - 7730 mm |
| Roller height | 840 mm |
| Roller width | 600/800/1000 mm |
| Roller diameter | upto 50 mm |
| Max load capacity | 50kg/m |
| Max load capacity per module | 350 kg |
ND-C-EHS Series | NIDO Expandable Flexible Skate Wheel Conveyor
NIDO's Expandable Flexible Skate Wheel Conveyor proves itself to be one of the most ergonomic solutions in material handling in a dynamic environment including truck loading/unloading processes. Our design with a lightweight structure allows an operator to maneuver the conveyor as per the situation and transfer light to medium weight with extreme ease. The freedom of motion on the legs makes it portable and can also be retracted to half of its maximum length for application in tight locations or saving space when not in use.
CANOPUS FRC Series | NIDO Expandable Flexible Roller Conveyor
Expandable Flexible Roller Conveyor is a unique type of gravity roller conveyor that works across a diverse range of dynamic warehousing situations. This serves as an on-the-go solution where a rigid fixed roller conveyor is not preferred. Its flexibility over its frame enables the operator to use it exactly as per requirement. NIDO's design and unique fabrication methods make it one of the most versatile versions of a non-motorized roller conveyor in the market. With the light weight structure and fast setup process, our solutions are quick and easy to deploy out of the box.
CANOPUS FMRC Series | NIDO Expandable Flexible Motorized Roller Conveyor 
NIDO's Expandable Flexible Motorized Roller Conveyor has uniquely adapted to be the best of the both worlds in terms of flexibility of a regular Expandable Flexible Roller Conveyor as well as payload capacity of a normal roller conveyor. From S shape to C to I, It is capable of transferring any payload in multiple orientations without the need of the constant monitoring of an operator. Our design makes sure it is operational by minimum personnel at all times. Its modularity enables it to be a part of multiple material handling locations. This can be a handy solution in times of a quick and easy deployment of intermittent shipping process.
---
General technical data
Max. load capacity
50 kg/m Max
Max. load capacity per module
350 kg
Conveyor speed
0.1 to 2.5 m/s
Ambient temperature
0 to +40 °C
Drive
Rated voltage
220 V
Electrical power
Max. 100watt
Drive Type
Compact AC Geared Motors
Materials
Conveyor belt
O- ring Pu Belt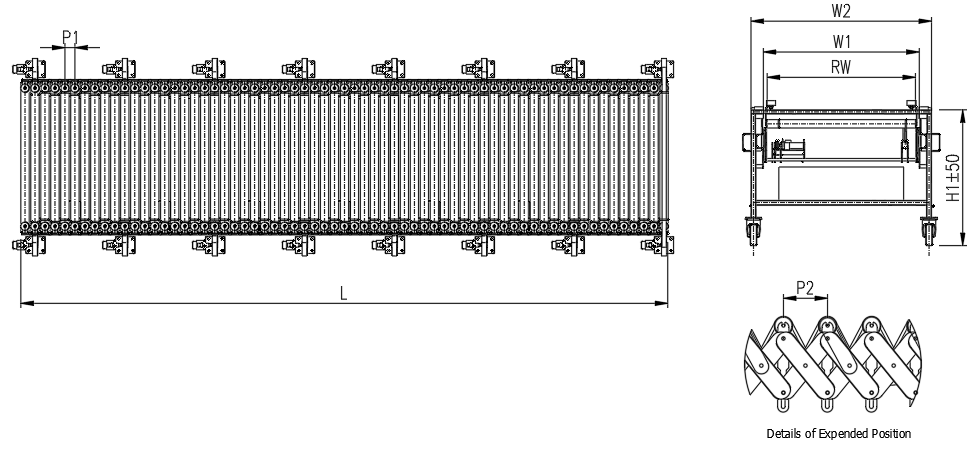 | | | |
| --- | --- | --- |
| L | Compacted to Expanded Length | Max 3890 mm to7730mm |
| H1 | Roller Height | 840 mm |
| H2 | Side Guard Height | 50/100/150 mm |
| RW | Roller Width | 600/800/1000 mm |
| W1 | Roller Free movement Width | RW+30 mm |
| W2 | Total Width | RW+140 mm |
| P1 | Pitch (Compacted) | 60mm |
| P2 | Pitch (Expanded) | 120mm |
REQUEST A QUOTE FOR FLEXIBLE CONVEYORS
YOU MAY ALSO BE INTERESTED IN