| Nido Belt Conveyor | CANOPUS-BELT-SERIES |
| --- | --- |
| Conveyor speed | 0.1 - 2.5 m/s |
| Belt Height | 840 mm |
| Side Guard Height | 50/100/150 mm |
| Belt width | 600/800/1000 mm |
| Belt free movement width | BW+20mm |
| Max load capacity | 50kg/m |
| Max load capacity per module | 275 kg |
NIDO's Canopus is a Belt Conveyor Solution, named after one of the brightest stars in the universe, is a distinctive adaptive system that is designed to be incorporated and effectively reduce man hours by efficient material transfer in any scenario. Our unique design is operational from a straight line running for long distances or between ground and mezzanine.
With a premium quality and great finishing, NIDO Belt conveyor is suitable for transfer of a wide variety of materials. Our years of experience helps us to provide a perfectly tailored solution which ranges from a simple merging conveyor to a complete smart system by integrating WMS, ERP, SAP with help of our proprietary NIDOWorkz Software.
General technical data
Max. load capacity
50 kg/m Max
Max. load capacity per module
275 kg
Conveyor speed
0.1 to 2.5 m/s
Ambient temperature
0 to +40 °C
Drive
Rated voltage
440 V
Electrical power
Max. 2 kW
Drive Type
Gear motor with chain drive
Materials
Conveyor belt
Level: smooth, 2-layer, PVC Rising/falling gradient: grooved longitudinally, 2-layer, PVC
Slider bed
Zinc-plated sheet steel 2.5 mm Zinc-plated sheet steel 3 mm

| | | |
| --- | --- | --- |
| L | Rated length | Max 6000 /9000 /12000mm |
| H1 | Belt Height | 700 mm |
| H2 | Side Guard Height | 50/100/150 mm |
| BW | Belt Width | 600/800/1000 mm |
| W1 | Belt Free movement Width | BW+20 mm |
| W2 | Total Width | BW+100 mm |
Nido Belt Inclined Z Conveyor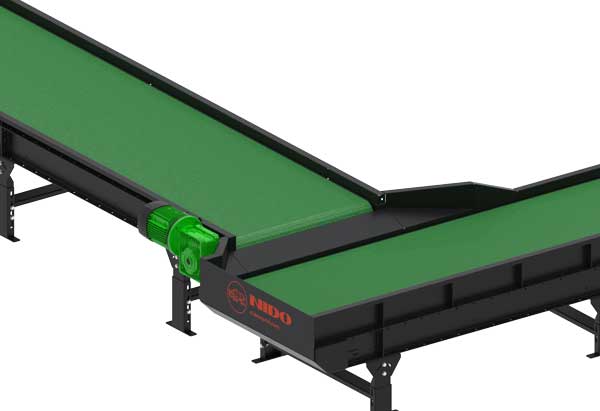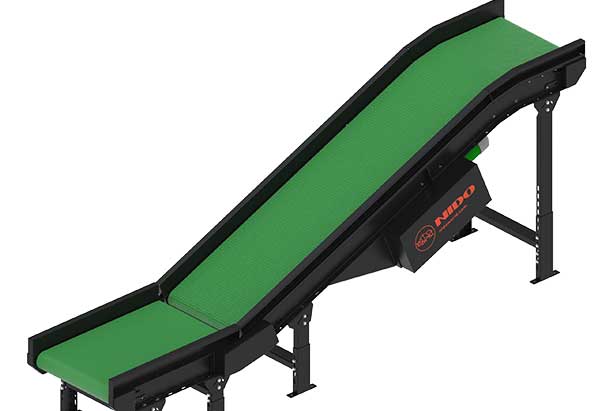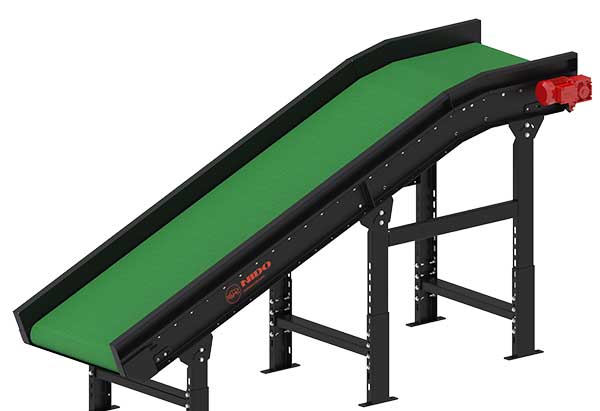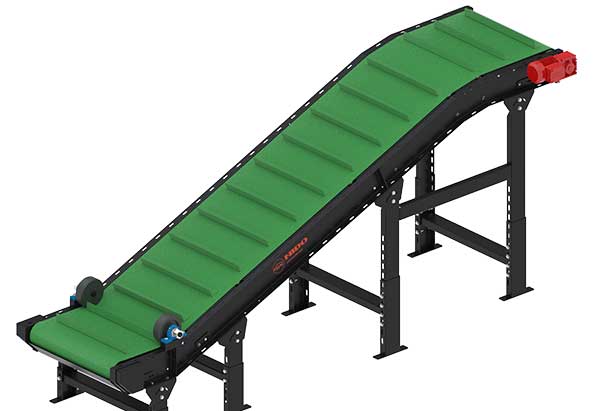 REQUEST A QUOTE FOR BELT CONVEYOR
YOU MAY ALSO BE INTERESTED IN