Modular AGVs & AMRs to Manage Different Load Sizes & Weight
Made in India. Designed, Developed & Manufactured by Nido.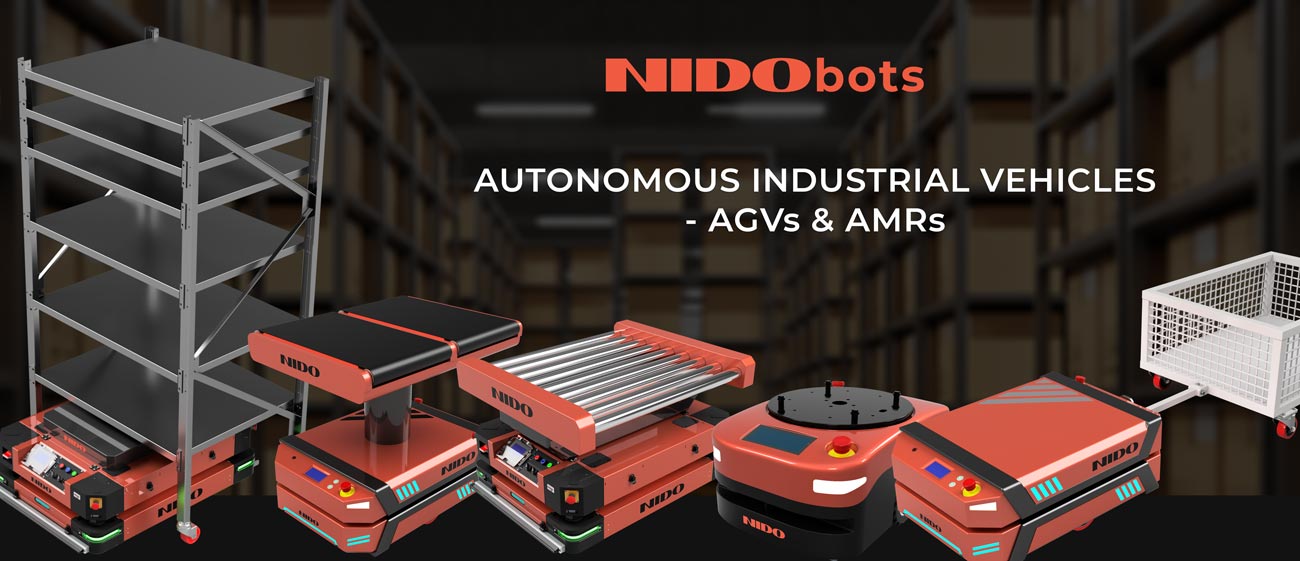 NIDObots, the mobile robotics division of Nido Machineries Pvt. Ltd. assists in unmanning the material handling, movement and transfer with the help of our fully indigenously designed ERIS series & SIRIUS series bots which are powered by our NIDONav navigation and fleet management software. Our AGVs and AMRs can retrieve and carry items to and from the racking, lift and carry the goods around the warehouse production facility or distribution center, deliver and collect goods to and from the conveyor line and transport materials over a long distance.
We design, develop and manufacture the entire mobile robotics eco-system making our products practical, modular & integrated. From mechanical, electrical, PLC to the navigation and fleet management software, everything has been designed by our team to best suit your requirements.
SALIENT FEATURES:
Modular Control & Safety Architecture conforming up to ANSI B56 / EN 1525 / SIL III standards.

Customized attachments and mechanical features to solve all your applications.

State of the art vision and laser technology for infrastructure agnostic installation.

Sophisticated multi layer NIDOWorkz software to seamlessly integrate with your WMS / MES and handshaking.

24 x 7 operation with self charging and decision making abilities.

Multiple Navigation technologies to scale with your operations and needs.

Expertise in solutioning and layout optimization for efficiency improvements.

Substitutes legacy automation and trolleys / racking / forklifts.

Quick and Easy Installation with Ease of operation using self developed user control interfaces.